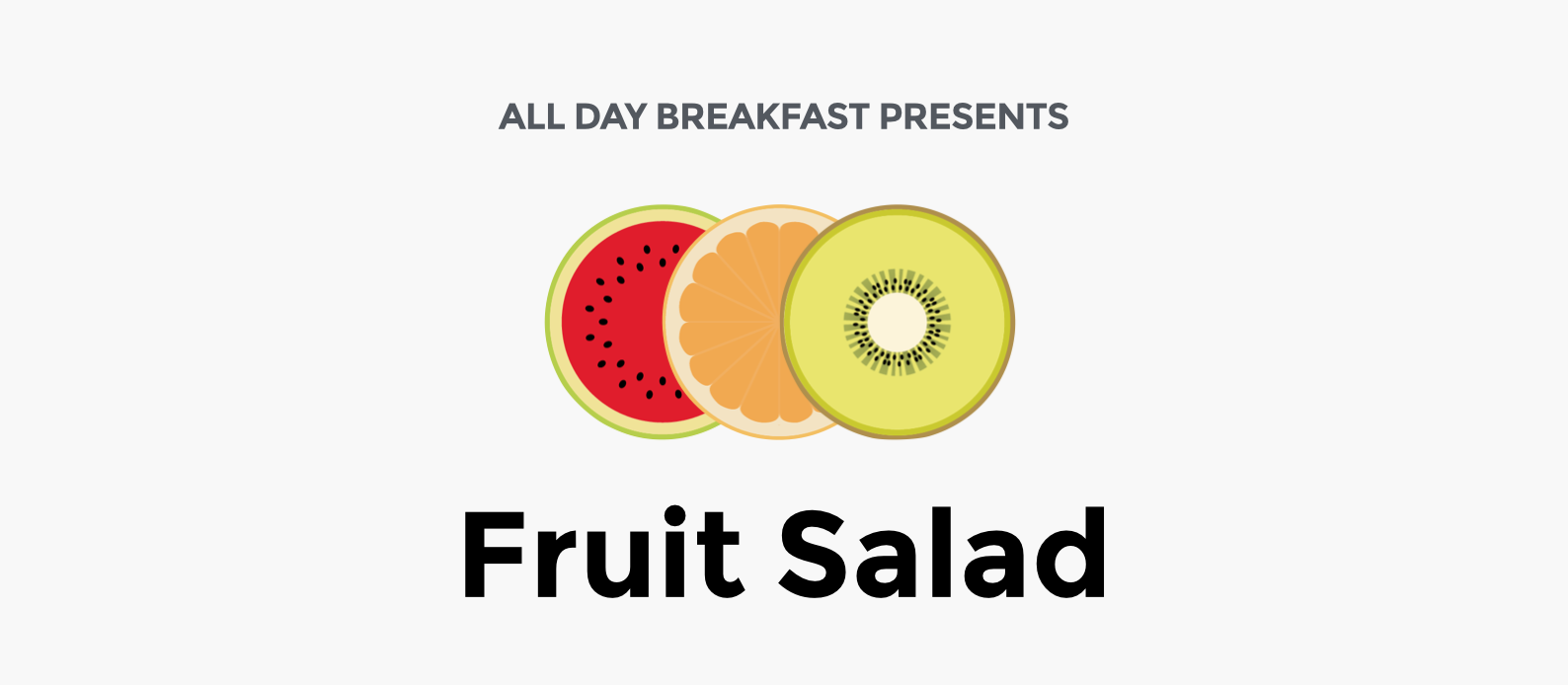 Fruit Salad
A downloadable Salad for Windows, macOS, and Linux
All Day Breakfast is a Melbourne based collective of independent game makers and interdisciplinary artists who share a creative work & play space. Support us by purchasing this salad!
Fruit Salad is a collection of works from artists and friends in the All Day Breakfast community. Works include released games, tiny experiments, passive software, wallpapers, Slack bots, and vines.
alldaybreakfast.co
@alldaybrkfst
Box One $3+
Apple / adb.gif / Richard Adem
!! error !!
Avocado / Action Painting Pro / Ian MacLarty
create great works of art from the comfort of your desk chair
Blood Orange / Black Hole Interior Explorer / Ian MacLarty
ever wanted to see the inside of a black hole?
Cantaloupe / CTD / Harry Lee
connect the dots no not like that
Carambola / Computer Jabber / Thomas Bowker
donate all your excess thoughts to computerjabber.biz
Cherry / Crown Fools / Harry Lee
two person psychological thriller
Date / Doomdream / Ian MacLarty
an impression of my dreams after playing Doom all day
Dragonfruit / Doki Doki / Chad Toprak
the journey of a paper plane
Feijoa / Full English Breakfast / Ian MacLarty
breakfast simulator and art-creation tool
Fig / Fazor / Harry Lee
space invaders (this might make sense later)
Gooseberry / GDC photos / Harrison Smith
a selection of photos taken at GDC 2015
Grapefruit / Game Loading Poster / Marigold Bartlett
drawn on paper with ink, coloured in Photoshop
Guava / Gonubie Hotel / Ian MacLarty
old arcade games in a hotel in a small coastal town in South Africa
Jocote / Jeff the Social Polar Bear / Sine Morris
or, Hell is Other Polar Bears
Salak / Screenshake / Harrison Smith
rumble rumble rumble RUMBLE RUMBLE BBLLLLRRRR
Satsuma / Swimming Bird / Thomas Bowker
swimming is complex and takes practice to learn
Shipova / Substratum / Ian MacLarty
you are a marooned astronaut exploring an uncharted planet
Tamarillo / Three Balls / Amani Naseem
three quick ways to make cheap balls
Vitaceae / Vines / Thomas Bowker
seventy two seconds
Voavanga / Vertex Meadow / Ian MacLarty
traverse generative landscapes
Box Two $10+
Apricot / A Patient Apology / Ryan Boulton
a meditation, a clock, a companion

Blackberry / Brolly Folly / Alexander Perrin
two hot dog stand umbrellas do battle


Imbe / In The Dark / Georgia Symons
a play script about mantis shrimp and a cult


Lychee / LYNE / Thomas Bowker
lynegame.com


Nutmeg / Neon_Lake / Barnaby RW
something pretty to watch while you listen to music


Strawberry / Sokobond / Harry Lee
sokobond.com


Tangerine / Trancefusion / Ngoc Vu
local multiplayer battle of three dancers versus one DJ


Watermelon / Wallpapers / Izzy Gramp
adorn your desktop background with beautiful landscapes


Zwetschge / Zigzagoon / Katelyn Gigante
All Day Breakfast's copyright infringing pet Slack bot

Purchase
In order to download this Salad you must purchase it at or above the minimum price of $3 USD. You will get access to the following files:
if you pay $10 USD or more
if you pay $10 USD or more
if you pay $10 USD or more
if you pay $10 USD or more
if you pay $10 USD or more
if you pay $10 USD or more
if you pay $10 USD or more
if you pay $10 USD or more
if you pay $10 USD or more